Okay stole this one from
gabhriel. And cause I want to I made it twenty instead of 10 cause, let's face it, most of my top 10 are a given LOL

[1] - List your top 10 celebrity crushes.
[2] - Put all of them IN ORDER of your lust for them.
[3] - Say which movie/show/thing it was that hooked you.
[4] - Supply photos for said people.
[5] - Tag five people!

Tags
canadian_turtle,
original_lie,
never_evil,
balikpulang &
romancebuff or
ellehwho (whichever of the two of u can and feels up to doing it)




20. Jared Padalecki
Actor - Supernatural, Cry Wolf


Okay so, despite him being a known face on Gilmore Girls (which I didn't watch), I had never sat up and paid attention to Jared until he appeared on Supernatural. Despite everything around him that could have seriously worked against him, I couldn't help but love his portrayl of Sam Winchester. And, seriously, that first episode KICKED ASS! So the fact he was prime-suspect-attacked-by-ghostie made it all the more cooler. I always remember him driving along the road with mobile in hand and freaking out at the sudden appearance of the woman in the road. Awesome. And then when I saw Cry Wolf I started to like him more and more. Though his character was a bit of an ass, that awesome smile won me over, and by the end of the movie I was proclaiming I had Jared love.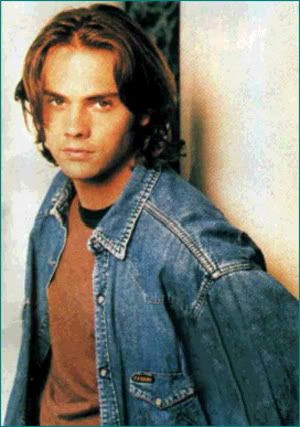 19. Barry Watson
Actor/BTS guy - What About Brian?, Boogeyman, 7th Heaven


Aww isn't he cute? heh. Okay so my Barry love, obviously, stems from 7th Heaven. It's where I first saw him. And he plays kooky and serious so pleasantly that it's hard not to love him. I'm awaiting the new show he's in cause these small 7th Heaven appearances don't really satiate the Barry need. I think it got retriggered when I saw Boogeyman and I realised he actually was a pretty decent actor.




18. Brian Krause
Actor - Charmed, Sleepwalkers


I had seen Brian in many many movies before Charmed, but I did not fall in love with him completely until he appeared as Leo, the whitelighter-posing-as-a-handyman. Leo and Piper are one of my favourite OTPs. I loved the whole romance around them, and I adored both their characters (as well as their children). I missed him everytime he wasn't on the show, and he kept me hanging on through the 2nd season where I was begging for their love to be rekindled. Luckily the writers went with it. And now we have awesome Halliwell-Wyatt children running around, and we have to thank Brian Krause for his popularity in bringing that about. *smooshes him*




17. Enrique Murciano
Actor - Without A Trace


I can't tell you where or when exactly my liking for this guy came about. I do, however, know that I am very fond of him because of his portrayl of Danny on Without A Trace. The concern with which he approaches things, his dark past, and the humour that crosses between him and his co-workers are always highlights for me. I do love that he can see the light side of things.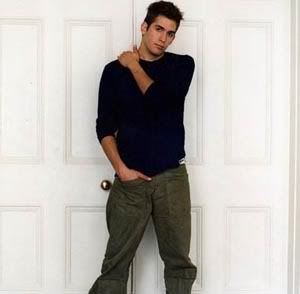 16. Eric Szmanda
Actor - CSI: Crime Scene Investigation, Snow Wonder


Eric is another one of those actors who appeal to me because of his humour. Obviously he appealed to plenty of others, beacuse his popularity on the long-running series CSI led to his character Greg Sanders being promoted into field work and being more involved in the mysterious storylines. I will, however, still miss his zany antics in the lab, for he seems the only person apart from me who would love to blare their own music in their office at work all day long.




15. James Marsden
Actor - Xmen movies, Gossip, Disturbing Behaviour, Second Noah


Ahhh wow I have loved this guy for a long time. He first came to my attention playing Ricky Beckett in the TV series Second Noah. With his youthful good looks and guitar playing ability I instantly liked him and decided to follow his career. Thankfully his star rose, and in a period where "teens" were becoming popular in cult horror films, James landed the lead in Disturbing Behaviour which was just an awesome film. Following that up with the equally great movie Gossip, James became someone to look out for. Though I didn't see him fitting the character, I was pleasantly surprised to see him land the part of Scott Summers in the Xmen films. With the casting of "teens" in films period now over, I was glad he had secured a role he could hang onto. I haven't had a chance to see Superman Returns yet, but I tell u since it was filmed here in Sydney I would have LOVED to crash into this boy while he was here. Unfortunately that never happens :(




14. Hugh Jackman
Actor - The Prestige, Van Helsing, Xmen movies


I've decided I really do like Hugh Jackman. If we're going to have an Aussie representing our country, I back him all the way. He has that friendliness about him that most Australians have. Plus he's a damn good actor so I've discovered. He's picking up accolades everywhere. I admit I've probably bumped him up further than he would be because of my brush with Van Helsing (not him, but the Universal hired one :D ), but he does deserve to be in this list. Last thing I saw him in was The Prestige just prior to my birthday which was an awesome movie. I can't say I'm ever disappointed by anything he's in, they're always entertaining.




13. Nick Stahl
Actor - Terminator 3: Rise of the Machines, Disturbing Behaviour


I admit, I have been a little slow on Nick's career. I've yet to catch up with things that he's been in of late, though I have every intention of watching them now that I know he's in them. He's a bit of a quiet achiever, just pops up and then you discover it was "that guy" from somewhere else. So imagine my surprise when I saw him in T3 - and the movie was actually awesome! I never thought I could like someone else replacing Edward Furlong because he'd been just great, but somehow I think I ended up liking Nick a WHOLE lot more. He first came to my attention, through James Marsden love, when I saw Disturbing Behaviour. I liked his rebellious, skeptical, outcasted character that suddenly became good. It's always a pleasure to watch his work.




12. Ewan McGregor
Actor/part-time Singer - Stay, The Island, Big Fish, Star Wars series, Moulin Rouge


Definately my favourite of the most accomplished actors out there. I'd seen him around but I don't think I really sat up and took notice until Moulin Rouge. It was at that moment of hearing his voice and with the whole dreamy aspect of the movie that I fell for Ewan and wanted to see everything he was in. I haven't seen everything, but definately a lot, and I love his performance (though I probably love his singing voice more). Um, I don't know what else to say, cause it's obvious just how awesome this guy is LOL He's got a great sense of humour and just seems like a genuinely nice guy.




11. Billy Boyd
Actor/part-time musician & writer - Master & Commander, Lord of the Rings series


Ah well anyone who knows me knows where this love stems from. Billy Boyd was adorable as the little rascal of a hobbit - Pippin. I loved him so much in the first film that Billy actually inspired me to read the entire Lord of the Rings series (which, we all know, is a fairly mammoth read). I was halfway through by the time the 2nd film came out, and I'd finished when the 3rd film arrived because I was so eager to find out what happened to Pippin and his little friend Merry (*hugz Dom*) The interaction between the two was SO funny that we're forever trying to get Billy & Dom to do something else together. Still waiting on that script boys!!! Plus Billy was also great in Master & Commander, and he's just so damn funny. I absolutely love him. And, you know, he's the only star that I have actually written to - I thanked him for inspiring me to read the whole thing and rambled on for about 3 pages I think LOL And he was nice enough to send me a personalised autographed photo back which still sits on my cupboard today :D He is teh awesome.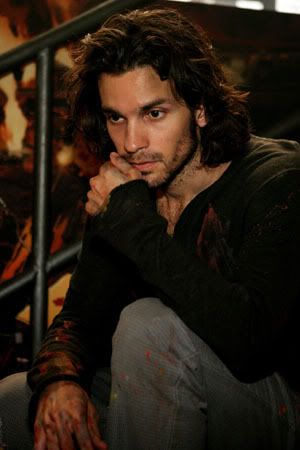 10. Santiago Cabrera
Actor - Heroes


Alright, now my Heroes worshipping has started to come up. I apologise for being so biased towards them, but I just LOVE them at the moment. If I had done this list 6 months ago, a lot of these ppl would not be on here. Especially this guy, because I never knew him before I saw him as the clairvoyant drug-addicted painter Isaac on the show. Santiago has a beautiful voice, and he looks pretty, but the best thing about him is that he expresses so much emotion through his eyes. In the simple heartbroken moment where he realises what he is doing, that's just such a pivotal scene. He says so much without even having to speak. I know there are so many layers and so much depth to this character that I only hope we get to know him further and truly get inside his soul because there is a lot there, concealed and hidden behind a world of imagination like any artist.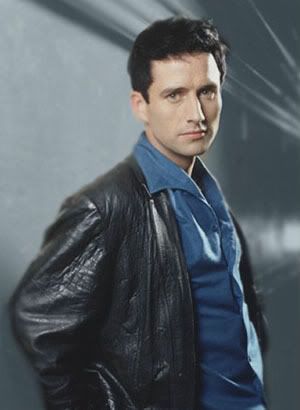 9. Glenn Quinn
Actor - Angel, Dr Giggles, Roseanne


Am I allowed to put dead people? Cause seriously, it was a really tragic loss to the world when Glenn died of a drug overdose in 2002. Though I had seen him plenty of times before Angel, it was his portrayl of the down-and-out Doyle that had me worshipping the ground he walked on. I chased up everything I could, watched as much as I could of everything he was in. He was a truly wonderful actor. And the video scene he shot on Angel, which is all the more poignant now, when they watched it after Doyle "died", I have to say I cried. It made me cry so hard, and all the more worse now that it's become his true fate. He was true talent who should never have been lost.




8. John Rzeznik
Singer/Musician & Producer - Goo Goo Dolls


Um, wow, how to explain this one... Okay, first love, first ever EXPOSURE was the film clip for Iris. I am a HUGE fan of video clips (hence why I have such a huge love of making them as well), and this one was just really well done. So much came across. Not only was the song a monstrous hit and an instant love with me, but the band won me over instantly. That happens very little. All I can really remember now is the tunnel and the telescope, for it was Johnny swinging around the telescope that peaked my attention to him. He has an awesomely wonderful singing voice, not to mention these guys are still reigning champs for live concerts. Just so much energy there. I love it.




7. Kris Lemche
Actor - Final Destination 3, Joan of Arcadia, La Femme Nikita


Anyone who is in my head knows currently why this guy is ranking so high *shifty eyes* Kris is another one of those ppl who everytime I see I go "I LOVE HIM! Who is he? Oh, I already know him" LOL Everytime I see him he just makes me fall in love with him all over again. Though we didn't get much of Joan of Arcadia he definately caught my attention as "Cute boy God" and I couldn't wait to see him whenever he came on. Again, last year, when I saw Final Destination 3, I was peaked by this cynical & skeptical semi-goth kid with a wonderful sense of humour who, u guessed it, just happened to be Kris. I rewatched the DVD a little while ago with all the BTS commentaries and stuff, and it's amazing to see that he's not quite so cocky and confidant in real life. In fact he thinks he acts rather poorly when he's driving a forklift cause he believes he can only concentrate on one or the other. But, Kris, u have my heart cause u are awesome no matter what AND YOUR ACTING DOESN'T SUCK! *mumbles* Damn creative ppl who get down on themselves (is one to talk :$)




6. Drew Fuller
Actor - Charmed, Black Sash, Vampire Clan


Drew is... ecclectic. He's not afraid to get out there and give something a go. He is also pretty great with his fans, taking many opportunities to interact with them or at least pass on news. It is good to see that he's so respectful of his fans and he does deserve their love for that. Drew's dropped down the list because, try as I might, it is awfully hard to get hold of stuff that he's done and so I have no way but memory to remind me of his talent. There are a few of his newest projects which will hopefully make an appearance across the next year. And, strangely, it wasn't Drew's looks that got my attention, it was his acting talent and how he manipulated me into liking his character. I have all respect for him and I do adore him now. Oh, and, must mention - he looks great when he's hurt.




5. Jensen Ackles
Actor - Supernatural, Smallville, Dark Angel


How do I love thee? Let me count the ways... I tell you, Jensen is a master of talent. He knows exactly what to do and how to do it, and he's such a great cocky smart-ass. U gotta love him. Plus he looks great sporting weapons and gadgets. I think I managed to sum him up better than anyone else LOL




4. Daniel Jones
Musician/Music Producer - Savage Garden


Um, k, this crush is ten years old! hehe. Amazingly it is actually a real-life crush, not one generated by an image or a character or work. Yes I did love Savage Garden when they first came out, so much so that I skipped school early with my friend to go to their in-store in the city. After many hours of waiting and getting ready to kill the Santa Monica song the store insisted on playing 60 times over, we were able to meet the two guys. Prior to this meeting I had always been fond of Darren. After this meeting I was in love with Daniel. The thing was that Daniel and I got along really well and we made a great connection. Sadly it only lasted for a short time, but I appreciate it all the same. I was devoted to helping the band out from that moment on and much of my life back then for the next few years orbited around that band and what they were doing. They went onto international success, had a minor fallout which resulted into a bigger fallout with the unplanned break-up announcement, and they went their seperate ways. Daniel turned to what he loved doing - putting things together behind the scenes, and Darren went onto his solo career. In the meantime Daniel got married to one of the girls from Hi-5 and they now have a gorgeous little baby girl who shares his brilliant smile and sparkling eyes.




3. Thomas Dekker
Actor - Heroes, 7th Heaven


haha I had to use this pic (I wanna spam it everywhere). I ♥ Zach. Nuff said. No, okay, um... seriously Thomas came to my attention playing Zach who is just a brilliant (and my favourite) character from Heroes. He's such a compassionate friend, the kind of person everyone would like to know, and at the same time he's such an outcast. He's a film buff. I have SO much in common with the character it's not funny so I adopted playing him. Um, Thomas is brilliant in the role. He knows how to bring things to life, how to make them mean something. His craft is truly an art. I also happened to catch some of his 7th Heaven appearances during the break, so that was enough to satiate my Thomas-neediness. And it's so sad I like someone this much who's so much younger than me! But he's just awesome. That's all I can say. Good luck to him and his career, he deserves it! :D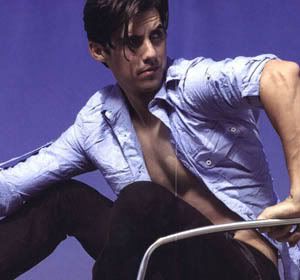 2. Milo Ventimiglia
Actor - Rocky Balboa, Heroes


Another Gilmore Girls recruit. It makes me wonder why I never watched the show. It also makes me wonder who it was I chose for Rory based on the ads - I know both these guys now LOL BUT my Milo crush came from Heroes. I could totally empathise with his character. The quotes I've got on my friends only banner in my journal struck a chord with me, because it was something that I would say, and I never expected to hear it come out of someone else's mouth. So I have loved Peter from that moment on. And Milo just... he's an awesome actor. I've never tracked down so many interviews from someone. I'm really glad for the popularity because it's feeding my obsession. And um the man himself is pretty funny and reminds me oh so much of someone I used to know...




*DRUMROLL*


... I'm sure this is no huge surprise (especially if you're keeping track) ...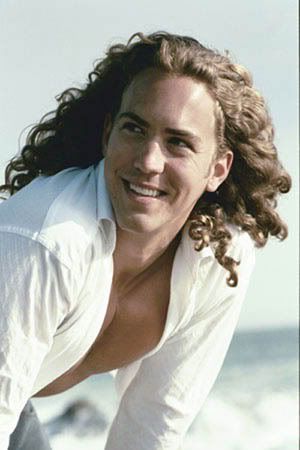 1. Wes Ramsey
Actor - Charmed, Latter Days


He's just... yum. What can I say? First moment I lay eyes on him I loved him. And I wasn't sure if I should, he was an ambiguous character, and he was "apparently" evil, but I was kinda enjoying the fact he hurt Chris (I still wasn't fond of Chris by then), and he was WYATT dammit. My love for that character grew and grew. And Wes catapulted that into oblivion. Charmed became a monumental obsession between him and Drew (and later Marisol when I began to adore her just as much). Wes is a plethora of undiscovered talent. He was awesome in Latter Days (best gay character based movie EVER IMO), and as Wyatt... wow. He made him so resourcefully intelligent and passionate. I kinda kicked the writers for dumbing him down when he was "good" but, hey, Wyatt was more about the brawn than the brains once that all came about. Acting instead of thinking (just like good ol' Dean on Supernatural). I really really wish we could have broadened it all out into another series, but I doubt it will be so now that SPN has filled that void. STILL it's nice to have worked all this out with my wonderful friends, and at least I wrote an entire fic surrounding some of the history *nods* So, in summary, astoundingly pretty man with awesome eyes, hair and smile, and such a nice, gentle personality with a wealth of talent to boot.


Ooh I'm gonna be so tired (and sore) tomorrow with all the time that took. :$