This vid and everything around it has caused me no amount of anguish. But through all the blood, sweat and tears I think it's turned out really well. The basis of it was provided by
alenah who wanted me to show the change between Peter at the start of the series and what he has become now. So, hon, this one's for you *hugz* Consider it an early birthday present. ;) And I also gotta thank
canadian_turtle who was asking me about this song months ago before I even heard it - it sunk its hooks into me straight away and refused to let go until I provided a Peter vid for it (amusing, non-the-less, that despite this "appearing" to be New York, it was actually filmed in downtown LA as the lyrics say).

I noticed the difference between Milo and Adrian Pasdar during this. Both guys are great people to vid, but where Adrian uses a lot of subtlety and you can read the emotion from his facial expressions, Milo incorporates his whole body into a deeply involving body-language type illustration. Very different acting styles but very complimentary. True, this makes Adrian easier to vid than Milo, but it also makes for some fantastic footage once you incorporate some meaning to a scene. In that respect this is pretty action-packed and enjoyable.

Summary: Peter dreams of being someone great, and upon absorbing the abilities of others and awakening those powers he finds he's not only endangering his own life but those of others around him. This video shows the transition of Peter as simply a dreamer, to someone who can master his own abilities & learn to help those around him.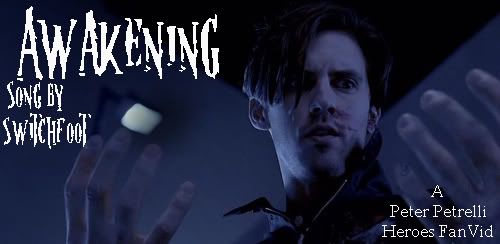 click the banner above to watch on Youtube or click here.



Warning: Features Season 1 episodes 1-18.

Download Links
Megashares
Megaupload Uploaded 22nd April 2007

On a personal note - this may be the last vid I do for a while as I'm ambitiously planning to take on a huge Heroes vid-related project. This is not to say said project will be completed as I have to work out the fundamentals of things first and I may not be able to do it, but if I do I sincerely hope it will be something that everyone can enjoy *hugz*