Hold onto your hats people, this was made quick with the intention of being quick and ironically took me about a month to do (with all the mass problems I had inbetween). Get your pause button at the ready because you just might blink and miss something.

I began making Heroes vids with an opener to the show and what it was about in the early stages. Because I made an opener, I felt it only fair to make a season closer showing the journey that each hero has had to face and overcome. This video tries to cover every bit of ground the whole season through and features just about every character you can think of.

*Puts on a Mohinder style voice* Is this quest all for nothing? Or is there true meaning at the end of one's journey, having experienced life outside your own realm and faced obstacles you never thought you could overcome? Did you anticipate yourself to be different from anybody else when you started, or did fate firmly step in your way and lead you where you were meant to be? Does life have a plan for us all? Does life want you to be the Hero?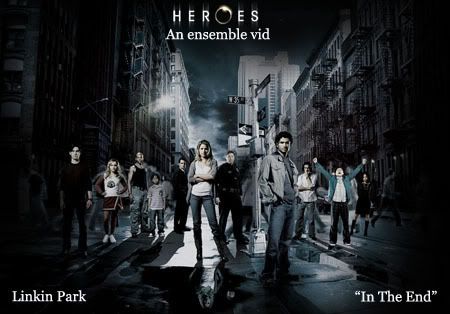 click the banner above to watch on Youtube or click here.



Warning: Features Season 1 episodes 1-23 (that means the ENTIRE season, and yes it's VERY heavy on the spoilers).

Download Links
Megaupload - link corrected for upload of FULL version
Megashares - link corrected for upload of FULL version


EDIT: I HAVE JUST BEEN MADE AWARE THAT THE DOWNLOAD VERSION IS NOT THE FULL THING. For some reason the file has become corrupted or something on my computer and has chopped itself short. I will have to re-render the file and will reupload it as soon as I get a chance. Thanks for your patience. ALL links now corrected with full version.