Have to cover two days here so first rewind to yesterday (if I can ignore Eminem & the muppet dancers - that's just so wrong :o )

So I slept really well and didn't wake at all until my alarm went off. Ultimately it made me somehow run late. I got the girls to meet me at Town Hall so we could get to Taronga quicker. I had to put up with some drunk guy bellowing out rock numbers in my carriage and chatting to everyone, praying I wasn't going to be part of his daily entertainment. And as if I wanted some not so fond memories to return to me, I instantly moved my feet from the floor as I heard him releive himself all over it. He didn't get removed from the train until Redfern (45 mins later), and I can't tell you how many evil thoughts were running through my head (albeit to my surprise someone actually DID threaten to kill him). It grossed me out having to walk through it, but I think I successfully managed to step on the dryest spots.

So we headed to Circular Quay and the sky was overly clouded unlike the previous day. Turned out that it was going to attempt to rain, but thankfully it didn't fall very hard. I had my hat on that I bought from the Irregular Jeans Warehouse *nods* so I barely felt it. We all bought soft toys from the gift shop (well, ok, mine was a puppet). Mel & Ellen bought matching tigers and called them Wyatt & Chris (so cute! hehe) and Mel bought this cute little turtle for Zarina and she called it Squirt. So sweet. Mel also bought a psychotic Madagascar (the movie) penguin & called it Mr Boo who Zarina babysitted most of the day and soon became a central figure for someone who should feature in every photo taken (didn't happen that way, but still ;) ). She also bought me a platypus cause I spent so much time chasing the one in the dark little cave (and almost breaking my foot/tripping myself over a few times) trying to get a pic of it. It was actually a fantastic idea to go to both Taronga & Featherdale because things we got to see at one place were either hidden/sleeping at the other, so we got the best of both worlds :D We saw a fairy penguin show and a dingo show too so it was great. Couldn't watch the bird show unfortunately cause it was on at the same time as the dingo one. I said I wanted to keep so many animals that Zarina told me to buy a zoo *blush* But at least I have Zoo Tycoon :D I can pretend hehe.

After the zoo, we took a ferry back to the city and then a train to Town Hall so I could take them souveniour shopping. Of course I took the "Scenic" route (via HMV & EzyDVD LOL) so um that made them buy more things. I saw Wes Craven's first movie "Last House On The Left" has been released on DVD which apparently was previously banned in Australia. Technically that means it was too violent. And reading the story I actually thought I'd love it LOL Sick little person I am. So EzyDVD didn't have it in store, but after checking prices everywhere I found that they had it cheaper so I have to go back and pay them a visit *nods* I gotta have that film, and I have a feeling it's gonna be another one of those ones I watch without my parents around. Don't want them questioning my twisted mind. I save that for me & my stories *nods* Then after that we found some souveniour stores (mine & El's feet were killing us from all the walking) and argh u know it's so annoying when the city u live in has such great stuff, but everywhere you visit is so not as good. Was terrible :( I hope other places I go are just as good *nods* I wanna bring back pretty souveniours :D Once we visited 3 of those (and I do believe I have a sneaky idea up my sleeve now - will have to check that out) we headed down to Hard Rock to AGAIN try to get in for dinner and got told there was an hour's wait. I couldn't hang around that long, it was already late & I knew my mother would be getting annoyed with me (she'd kill me if I came home at 10pm). So we went to a place just up on the corner from that and had our last dinner together. Then I went home from there & had to wait half an hour almost for a train so I did get home rather late. So pics from that day: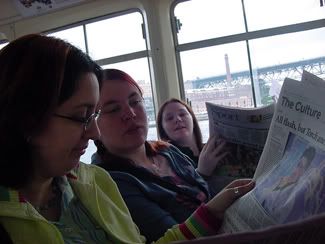 On the ferry trip over, Zarina's hobby of picking up stray papers led to us discovering a review on Fantastic Four the movie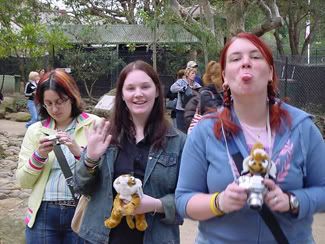 Zarina, Mel (with Wyatt), Ellen (with Chris) in the Australian Walkabout section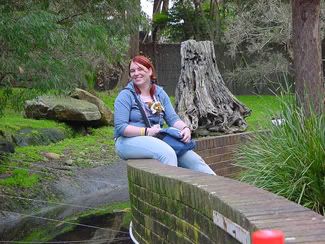 Ellen takes a break at the Dingo enclosure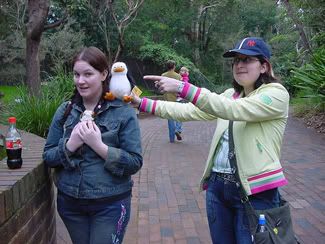 Zarina holds Mel & Mr Boo hostage (okay, they were really just pointing out dingoes to me, but the pic was funny *nods*)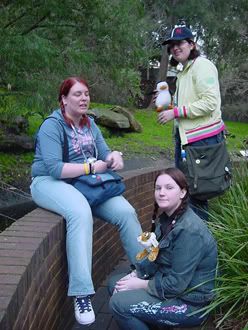 Ellen, Mel & Zarina waiting on the keeper for the Dingo talk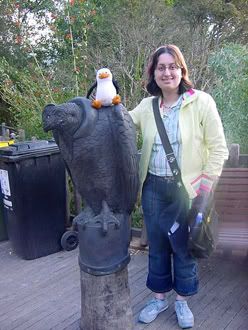 Zarina & Mr Boo at the Condor enclosure (this was meant to be the beginning of "Mr Boo at the zoo, Mr Boo at The Rocks, Mr Boo in Sydney, Mr Boo on the plane, etc. etc.")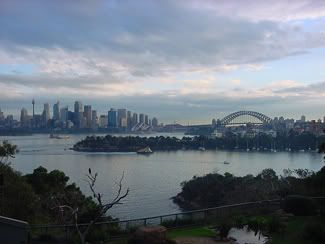 My spectacular shot of Sydney from Taronga Zoo - Centrepoint Tower, the Opera House and the Harbour Bridge framing the harbour. You can see how overcast it was from this.

Now today... after a fairly restless night of sleep, I got myself up at 8:30am (bearing in mind how long it took me to get ready the previous day). Got ANOTHER text from Michael with the same "Thinking of you, how's your holiday?" message. I still haven't sent one back. I was angry about it last night, I told my mother so that I am not hooking up with him despite what he thinks because basically I deserve to be treated better than the way he has treated me. If anything, the girls have shown me that. You don't have to please everyone and be treated like dirt in return and consider it normal. Some people out there do love you just as much as you love them, and those are the special ones that you keep, the ones that will accept you for everything you are, the ones that can make you laugh, the ones that can touch your heart so much that the very thought of not having them around brings tears to your eyes. They're the ones you fight for and try your hardest not to let go. They're the ones that you look to when they're leaving, the ones you give one last look to and hope to see one last look from them, and the ones that you want to turn back & chase after even while you're walking away. And, erm, the most tears I have shed would be just now writing that, because of course I am brave and know I'll see them all another day. I do not know when, but I promised each and every one of them. And the most teary I got was when Melly went away to get some drinks and I was babysitting Wyatt and thinking how they would all be gone soon, but it was only very little cause Mel returned and quickly cheered me up. So ultimately it was a great day today, and time flew so quickly despite what little we had to do at the airport, but we're just such good friends now it was easy. And I didn't want anything to end because I was enjoying myself so much (even found some San Francisco books! :o But I have been insisting all day that I shall be going to LA & SF next year if I can). So here is our very last pic just before Zarina & Ellen went through the gates, the last pic of the Musketeers this holiday.