So you may be wondering what happened to us last night... well, there was some rather problematic behaviour and we got thrown in overnight for lewdness, fraud, destruction to public property, attempted murder *thinks* another charge I can't quite remember. Don't believe me, I have photos to prove it ;)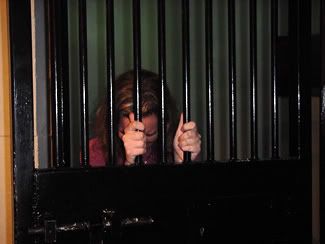 Destroyed by my first night in jail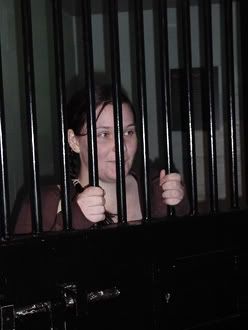 Mel starts thinking she's never going home again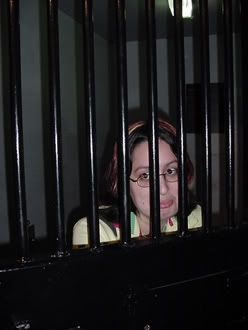 Turtle is disappointed to find out that she will be a known felon once she gets to Canada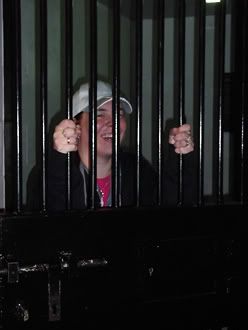 Ellen looks happy - she likes jail :D The ebil instigator of trouble *snigger*
Okay, so you can see, we weren't really in jail. That was just us mucking around today (and for the record I wasn't crying, I was actually bursting out laughing at the other girls). Erm, so this may be long considering I have two days to cover now. *blush* Reason I didn't post last night (and believe me I tried) was because I was pretty ill - I had a fever that didn't break until about half an hour or so after I went to bed. I crashed early to try and sleep off the headaches and nausea I was having for the majority of the day.
So, yesterday, we already knew what we were doing. We were going to go to Manly to use up the website vouchers for Oceanworld before they expired (today in fact). So we all jumped onto the ferry and took a seat up the front up the top, and then went mad with the cameras LOL We took so many pictures of each other taking pictures of one another it was crazy. We took more of those than the scenery around us. And it was a cold and windy ride and we moved about a bit, at one point the girls declaring me famous and asking for my autograph (which I humbly did LOL). There was one point near Manly where the water got a bit rough, so it splashed all the way up to where we were and got us wet. Mel and I dashed for escape but couldn't get anywhere since people were blocking the way. Ellen decided she'd surf it out instead. Zarina, our brave little turtle, defied all odds and went to the very front hehe. And once we landed we headed straight to Oceanworld where the girls went Finding Nemo hunting to take piccies of the featured fish (who were much too fast for them), then we went over to the baby sharks and the other touch pool where we touched one or two things and Zarina tried to touch just about everything in the pool hehe. Venturing down to the lowest level we took a stroll through the eerily lit tunnel where we were chasing stingrays trying to get photos of them, and looking for things that just weren't visible.
After that we went up to the very top (and lost turtle :( ) where we were looking at all kinds of creepy-crawlies and goannas, and we sat there entertaining ourselves for half an hour or so (mostly by poking - it's our new way of conquering silence LOL). Then we had the show which was fun. They made everyone move over to where we were (I was being a total snob and saying the musketeers go to no-one, they have to come to us :P) Zarina and I were being brave and touching everything while the other two were playing chicken *snigger* First time I touched a snake (was only a baby one ;)) and it actually felt like a rubber snake. That was so freaky, I mean I'm going to get weirded out everytime I see one now wondering whether it's real. Eventually Ellen and Mel caved into touching a few things too, which was good.
After we left there (and did a little souveniour shopping - Mel & Ellen got bracelets and I had to resist the Bianca keychain...), I suggested we go up the main street and two stores up spotted the store I remembered years ago had indian and spirit guide stuff in it. Pulling the other girls in I noticed it had been converted to a New Age store, which was all good. I picked up a Book Of Answers from the table and we tried our skills on it, but the one Ellen picked up was far funnier. She asked if she was going to get married and it told her something I concluded to be not for a while. Then I became overly obsessed with it and was asking it about all kinds of crazy stuff like *thinks* "Are Wyatt & Bianca ever going to get married?" Answ. Something like if they're commited enough. "Can we get Drew, Wes and Marisol to do our spin-off and get it off the ground?" Answ. Ask your mother (that one was hilarious, had me & turtle in stitches) "Is boo going to stay in Sydney after this holiday is over?" Answ. Think like it's already happened and it will (*ebil laugh*) "Is Leo going to come to the next Sydney holiday?" (or something to that effect) Answ. There will be unusual circumstances surrounding that (or something to that effect - made me think there would be some weirdness if he did come so I said maybe I shouldn't invite him LOL *whispers* Didn't mean it buddy *blush*) So yeah u can see I was having fun with that. And everytime I asked it about the convention with our guys it kept telling me to take the initiative or seek help or, you know, basically telling me I have to email those people I keep putting off doing *whistles* And I was checking out the charms up the back, and El & I discovered that our birth month charm was for magical power/energy or something, so I was asking if I got that would I be able to conjure (a) and then Zarina pointed out the stuff further down and lo and behold what do I find? An athame! Of all things. It's used for "channeling desires" LOL. Totally makes me think of Bianca. So of course I couldn't resist, I couldn't leave the store without it (especially since it was on sale), so I bought it and put it away in my bag, and the other girls all got these little wish bracelet things. When we went for lunch (which the only way I could eat it was not looking at it I felt so ill) I pulled the box out with my charm and tried for ages to get it open. Finally succeeding we discovered that it actually had a cord with it. I could have done a happy dance I was so glad. So I put it on straight away (and wore it again today - I'm in love with it hehe. I finally have me my own personal athame :D ).
After we caught the ferry back (so comfortable were we we didn't want to get off) we went out into the cold air and it was just so great that it hadn't rained all day, and the lights were on so, since it was peak hour and I told them they could keep me awhile, we went for a walk along the harbour up to the Opera House to walk back to their place, discovering that the garden was closed so either we had to take the really long way or the train. My mother kept hassling me to come home earlier so by the time we got to Town Hall to switch trains I had to let them go their way, and me mine :( Okay so piccies from yesterday:
Zarina, Mel & Ellen fight over taking photos of one another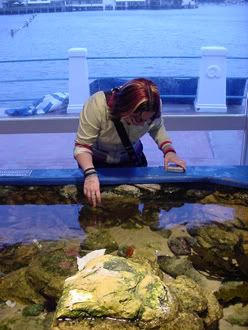 Zarina touches something that crawls in the touch pool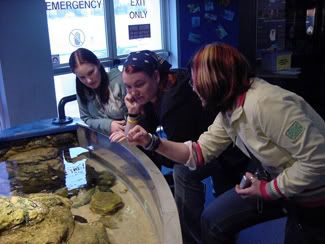 Zarina tells Mel & Ellen she's going to try to catch the fish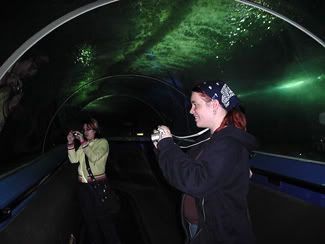 Ellen & Zarina take photos of sea creatures in the tunnel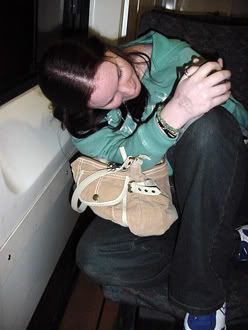 Mel tries to take sneaky pictures of everyone on the ferry heading back to Circular Quay
Okay now for today. Good that I went to bed early and slept so much, I got rid of the headache and nausea from yesterday *nods* So I was incredibly happy. Left late for numerous reasons, one being I couldn't get the key in the lock for the front door properly so I couldn't get out *rolls eyes* Thankfully the train was late so I was able to catch it, but it was all stations. I got the others to leave at 11 and meet me at Town Hall, and they ended up having to wait 20 mins for me. It absolutely poured down today, and the wind was fierce, blew my umbrella inside out on a good 3 occassions :( Good thing was at least the dams around Sydney are filling :D Even if it was flood weather today *sigh* So I opted we go to the Australian Museum so we were doing something indoors, and we decided to go do the WhoDunnit exhibition so we could play CSI (a) was fun. We made a good team *nods* Although eventually we ended up splitting into two - Zarina & I and Mel & Ellen. And still we had no idea what had happened by the end *blush* But it was interesting. And then we ran around the Aboriginal Exhibit getting lots more piccies, Mel preaching in the chapel, getting locked up in the jail, riding on the bus. Twas great. And we went upstairs and scoured through the other exhibits, and eventually we left about quarter past three. I was actually getting a bit concerned with the Security Guard that had started following us because we were mucking around a little too much. Kinda glad he didn't see me throwing fruit around in the kids kitchen *whistles* I tell you if you guys catch Zarina's brilliant pics you'll see some of the naughty things we got up to. When we left we went to Maccas for lunch and sat on these Japanese style pedestal things, and still watched the rain blowing sideways and the trees almost blowing right over. We were heading towards the cinema (stopping at the Camera shop so Mel could get another memory card) - Mel actually pointed me in the right direction so we went underground and got distracted by JB Hi-Fis so did some more shopping LOL. Mel got the CSI: Miami box set so we have Wessy now *happy dance* and I bought Sarah McLachlan's Afterglow tour DVD/CD, Backstreet Boys new album, and Within Temptation's new one (they had a whole slew of CDs from this Dutch band! :o Go figure. But this one had a clip so I bought one copy, and Mel the other, and because we got served one after the other the guy behind the counter was checking my CD out obviously wondering who this band was and how they're so popular now *snigger* Tis a great CD though *two thumbs up*) And I actually thought it was an hour later than it was so I said goodbye and raced down for a train, only realising when my mother sent me a message asking where I was and saying she was on the train before me that I had left far too early :( Oh well. They're all coming out my way tomorrow anyway *bounce* So that should be fun, and I think we'll have to be creative cause of the flooding, but anyway... ok piccies from today: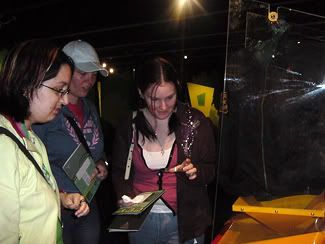 Zarina, El and Mel 'shakedown' the jacket for evidence and discover dirt on the clothes! :o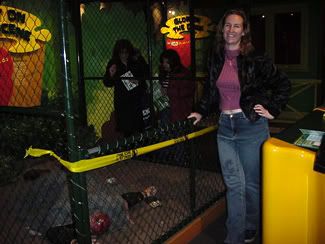 The latest star of Blind Justice - Julie! *snigger* Okay, I wanted to play Mari, so sue me (a)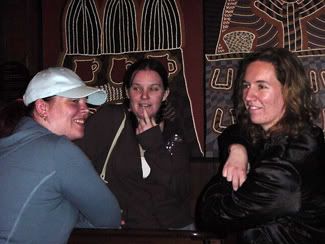 Ellen, Mel & Julie in the chapel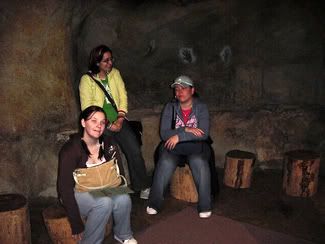 Mel, Zarina & Ellen take a break in the Aboriginal cave (Zarina & I were matching our handprints there (a))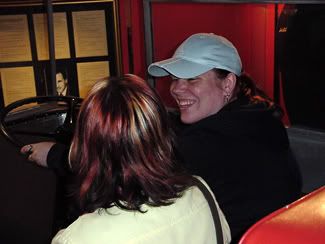 Ellen drives the Charter bus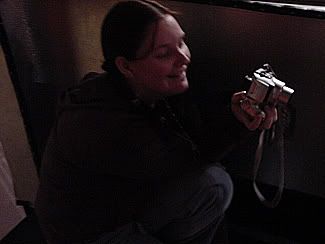 Mel plays papparazzi in the bus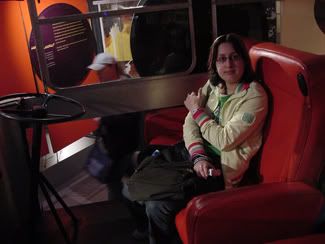 Zarina takes a break after driving with her feet hehe
Julie with one of the extinct creatures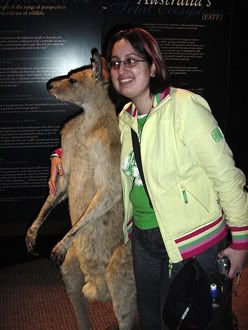 Zarina hugs a kangaroo for Julie/ML (sorry, it's not real, haven't met any real ones yet)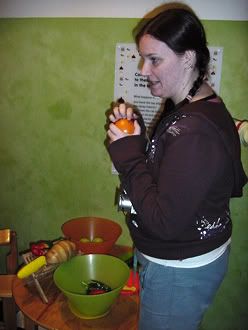 Mel digs into some fake fruit in the kids kitchen
Okay so that's all I have for you. Well, actually, one more pic from the Chapel, some nice Asian fellow decided to offer to take a group shot for us so here is the first shot of all 4 Musketeers together :D