Hmm I feel like I should be getting annoyed with myself for the lack of updateyness. Okay so lemme see... Saturday night ended up being the stay up all night night. We watched 13 Ghosts which didn't scare the girls very much, and yet again I STILL jumped at the same part. Ugh. BUT at least the main menu didn't freak me out like it used to. It was really cool to be able to hang with the girls and do the things I love to do. Seeing as they could handle that, I persuaded them into playing Nightmare (my most favourite board game) and pulled out the original version. No-one won, but instantly they were all addicted and found it so much fun that they wanted to play again. So to bring diversity I pulled out the second edition which was great fun. And cause it got so late, I jumped to the 4th edition because that was the Vampire one and it's usually over quickly. Not this time. This time it was almost the end before we all started becoming vampires, first Melly and, after her 3 attempts & failures of turning me, Countess Bathory turned me into one, quickly followed by Zarina, so Ellen was the only one left playing by herself for the last five minutes. It was funny. And Zarina couldn't wait to play the witch one, but I promised we would on Sunday.
So Sunday we went out rollerskating and Ellen and I were instantly feeling old. We were only on the rink for 2 minutes or something and we were already in pain. I couldn't understand, it usually takes a while to get to that point, and I concluded it was the walking we had done up at the Blue Mountains the previous day. So people, don't schedule hiking like activities and rollerskating in consecutive days. Lesson learned. *nods* But that was great fun, we missed out on the dice game cause we were only strapping on our skates when they started, so we had to skate outside the rink until that was over. And we were chasing and tickling each other which was good. Almost stacked it a few times, but I wouldn't let myself go too fast, and I had some quick recovery. I had a foot long hot dog for lunch too, couldn't believe how big it was! And it was freshly cooked, hot & yummy. Excellent. I almost didn't want to go, I was enjoying myself but my body was not agreeing to the activity. I know there was one little girl dissappointed to see me go. She took a fondness to me cause I was wearing a Mickey mouse shirt (and my athame *snigger* I'm so contradictory) and, despite my minor show-off abilities to the er... 2 tricks I can do LOL, she was asking if I could do the splits and I told her no I wasn't that talented, and she said her sister could. Ah well. Okay so piccies from that: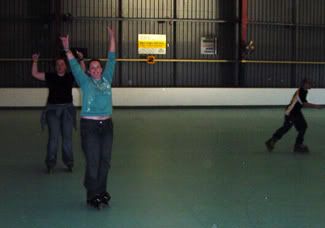 Ellen & Mel "the bladers" on the rink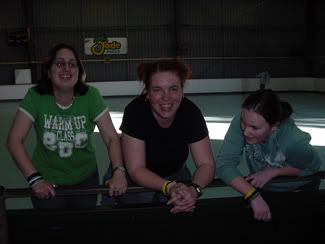 Zarina, Ellen & Melanie take a break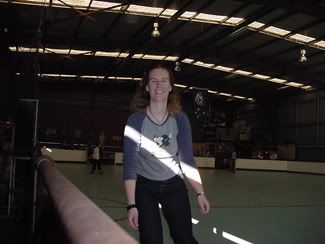 Julie on the rink, coming up from her crouchy trick *nods* hehe
Following that we came back for a BBQ, and played the Witch version of Nightmare (with Zarina acting like a pig, so funny & cute!). And then we played the Buffy game I love while Live 8 came on. Discovered today that Australia wasn't involved because they knocked us back on time issues. I'm so grateful Michael Chugg asked though, at least I know it wasn't our fault now. But we didn't stay up so late since they didn't show much of that, they're gonna show more this Saturday now *yay*
Now yesterday we spent a lot of time getting everybody packed up and getting back to their hotel back in the city. After dropping everything off we decided to go to Bondi Beach to check things out there. We walked up and down the main street (across from the beach) and finally settled into this nice little place for lunch (er yeah at 5pm LOL we have weird timing). Um the major tickling & poking led to me smacking my knee on the underside of a very solid, very unmoveable hardwood table. Boy it hurt, but things worked out okay. The meal was delicious. And looking outside we thought it was going to rain, but checking my watch I didn't realise how late it was, and it was actually the sun setting. So it was dark when we left. Mel gave me her jacket, insisting I wear it cause I didn't bring my own and she didn't want me any sicker than I already am (got a bad cough now :( ). Um, so since it was so dark, we couldn't really take any good pics, plus everyone's batteries died. We had to play around with the nightwatch feature to get something happening, but that requires you to be unmoving. So here is a piccie I took of the 3 girls in that very arty way: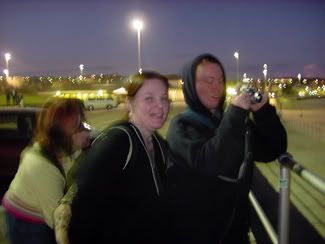 Then we headed back and, although I told my mum I would come straight home, instead I went with the girls cause Ellen wasn't feeling so well. Zarina and I had a skipping competition partway back to their hotel (I was very bouncy yesterday). She has a longer stride than me so she easily beat me. That was really good fun though.
Okay, so today was the bridgeclimb. I have a pic, but Russ won't let me scan it *kick* I had to run around like mad doing housework this morning all by myself, so nicely stressed out I was getting *nods* I grabbed my James Blunt CD and put that on to calm me down when I wasn't doing noisy stuff like vaccuuming, and the damn man made me cry again :( Same song of course - "Goodbye My Lover" Then I raced into the city and got the other girls, brought them back to Circular Quay and we went to City Extra again for lunch. Well the place was hugely crowded, lots of schoolkids (and not even Aussie ones! :o ) I couldn't finish what I ordered so had to leave it *sigh*
Um... then we made our way to BridgeClimb without getting overly lost, got there early, checked out the celebs on the wall, had a bit of trouble checking in cause I didn't print out the confirmation and it ended up being that the girl who booked it put it under the name of the guy from my work. But once all that was sorted, we got shoved into a little room to start our journey. I was starting to get a little scared (hmm can I say empathic nervous vibes I was picking up?) but it was all good. I said we would make it into an adventure, and I wanted someone fun to go up with us. Well I have to say at least my Musketeers and our tour guide are good fun, and at least the BridgeClimb staff have a good sense of humour because I was making jokes/being a smartass/overly friendly the whole time, and I love my girls that they're totally on the same level as me. So my little inquistiveness had me asking about what was in the backpack he was clipping onto us, and he said it was a parachute, and I was like "good, I CAN jump then" :D hehe. And I realised from the sign that it was a fleecy jacket (which Mel put on later) but it was funny cause the situation came up later and I was picking on the tour guide *nods* We had these little wheel things that gripped to the cables too, and mine kept getting stuck in the brackets we ran through, but even that was okay despite it hauling me back every so often. We even met a German guy I had mucked around with earlier that works for BridgeClimb and he was having a good chat to Ellen & Zarina. Was great fun :D We got lots of piccies taken, and ended up with a different Musketeer pic each *nods* So hopefully at some stage they will all be up ;)
The climb actually wasn't too bad. I banged that same knee from yesterday on the steps climbing up but that was it. It was actually very unstrenuous cause we kept stopping all the time, and it wasn't very steep, so it was really nice. None of us were exhausted like we expected to be when it was over (which I think dissappointed Zarina) - it was worse doing the steps at the Blue Mountains. So overall it was really good. And um, I was actually glad they weren't so annoyed with me about almost taking my watch in. I always forget to take it off. And it was actually a little funny cause I had considered sneaking my athame in there for the walk up but decided against it. We didn't know until we got there that there were metal detectors.
Well I think that's it for now. Think we're going to do Luna Park tomorrow. Oh, yup, also it was funny that our tour guide was pointing out places I'd already taken them too (see I AM a good tour guide hehe) and when I was filling in the girls on Luna Park once we got a good view of it, he heard me as he went past, so then HE decided to fill everyone in on the amusement park. It was funny. Okay now I'm wrapping this up. Need to stop rambling *nods* Got other peeps to update hehe (a)